About
About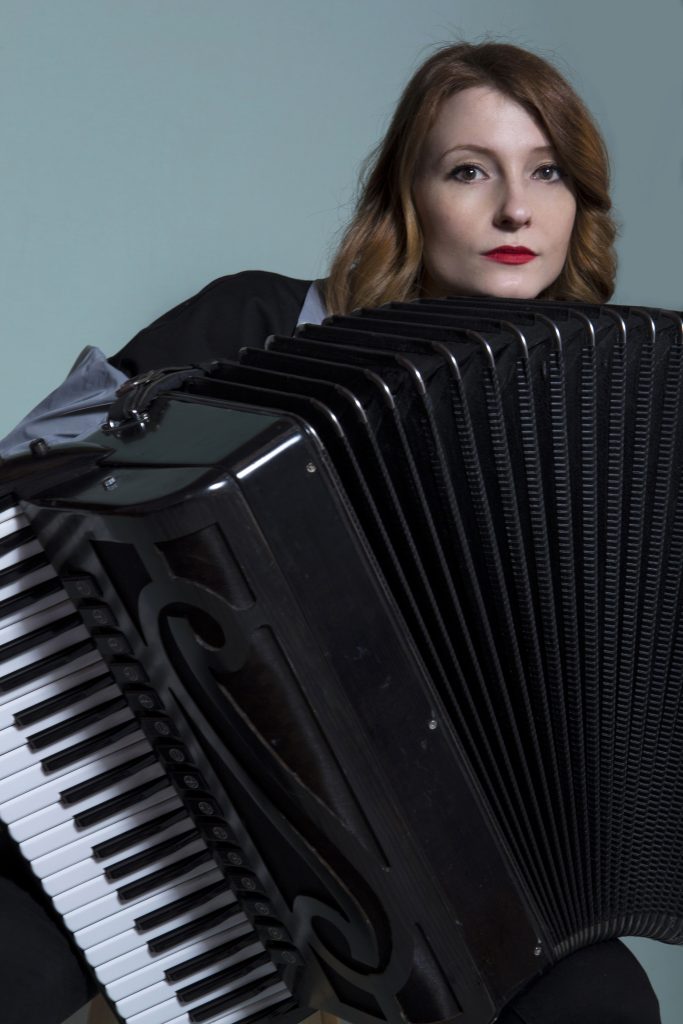 Margherita Berlanda developed her skills as an accordionist under the guidance of Corrado Rojac (Conservatorio Statale Giuseppe Tartini Trieste), Friedemann Gisinger and Hans Maier (Staatliche Hochschule für Musik Trossingen). She was also a student in Stefan Hussong's class at Musikhochschule Würzburg (Erasmus scholarship winner 2011-2012). She graduated in a Master of solo performance, Chamber Music Master, Musikvermittlung Master (Thesis about contemporary music and school children), Konzertexamen Studiengang (post-máster interpretative specialisation). 
Investigation through different aesthetics and artístic expressions played a central role in her personal research and led her to approach the performance field. 
Of particular interest are her activities with Alambic Duo, the contemporary music ensemble Azione_Improvvisa (winners of OPEN contemporary creation call 2018 Pergine Festival, ensemble in residence for TheWorkRoom, Fattoria Vittadini Milan 2019), the Dúo Pérez – Berlanda, and the performance-instrumental theater group KalaKara (Supernova  Open Call Winners, Pergine Festival 2019). Her focus on contemporary arts brings her to collaborate actively with various composers, such as Samir Odeh-Tamimi, Giorgio Colombo Taccani, Anna Sowa, Gianluca Castelli, Roberto Zanata, and Nikolsus Brass. 
She has performed for internationally known festivals such as the International Koper Biennial, Bel Circolo Bellunese,  Donaueschingen Musiktagen, PactaSOUNDZone Milan, Pergine Festival, SpazioMusica Festival, Musica Insieme Panicale Festival (in cooperation with Ernst von Siemens Stiftung), Cembalo und anderen Tasteninstrumente – Akademie der  Künste Berlin and cooperates with Fondazione Haydn Stiftung – OPER.A 20.21 Festival of Haydn Orchester von Bozen und Trient and Kammerphilharmonie Mannheim. Shanghai International Culture & Arts Institute recently promoted Alambic Duo's chinese tournée (among the stages: Grand Theater Ningbo, Kungmin Teather, Concert Hall Harbin, Development Area Grand Theater Dalian and Concert Hall Yangzhou).
She took part in different international music competitions such as Val Tidone International Music Competition and Luigi Nono International Music Competition (Turín). 
Some of her interpretations have been broadcast by Radio Tre, Radio Svizzera Italiana, Radio Vaticana, Bayerische Rundfunk, RAI Slovenia and recorded for the labels Stradivarius, EMA Vinci, Da Vinci, GiutArt and Ars Spoletium Label (together with Azione_Improvvisa).
Margherita Berlanda is co-founder and coordinator of the contemporary arts space Anomalia (Trento) together with the painter Andrea Fonanari (Boccanera Gallery, Trento-Milan). Of international interest were _like a sunny polish project (2018) and Mauer_Werke Festival (2019). In 2021 Anomalia is winner of FRINGE selection by Orchester Haydn Stiftung von Bozen und Trient, with the contemporary opera project SILENZIO/SILENCE (premiere 2022).  
Of notable interest in her teaching experience was the opportunity to be the assistant for the pre-academic accordion courses at the Conservatorio Statale di Musica "G.Tartini" of Trieste and the work at the Conservatorio Statale di Musica Lucio Campiani of Mantova. She is currently developing her research about contemporary music and children's education and teaching at the Musikschule Überetsch-Eppan (Bozen-Italy) and Bruneck.